Information Sheet
The Belize Port Authority invites bids for the sale of the following motor vehicle:-
TOYOTA HILUX PICKUP 2008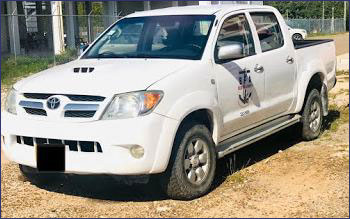 The vehicle is being sold "as is". The vehicle is available for inspection at the Belize Port Authority's Headquarters, Mile 4, George Price Highway during normal working hours from Monday to Friday between the hours of 8:00 AM -5:00 PM for viewing.
Submissions of interest are to be made in a sealed envelope clearly marked "Tender for Sale of Vehicle" and addressed to:
Ports Commissioner
Belize Port Authority
Mile 4, George Price Highway
Belize City, Belize C.A
P.O Box 633
All submissions are to be made before 4:00 PM on 13 MARCH, 2020 for consideration. Tender received after the specified time and date will not be considered.
The Belize Port Authority does not bind itself to accept any tender, nor will it assign any reason
for the rejection of a tender.